H
ireGain is a premier boutique executive search firm specializing in mid to senior level managers and executives within selected industries and functional areas in North America.
Each member of HireGain's qualified team comes to the search industry with no less than 20 years of industry management and operations experience. Our team members have held senior leadership roles within Fortune 500 corporations, as well as successful venture funded companies.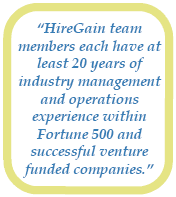 The industries and functional areas they have worked in include IT outsourcing, enterprise software development and marketing, hi-tech design and prototyping, public sector sales & marketing, tax and regulatory compliance, and others. The insight and perspective gained from this experience gives HireGain a distinct advantage in the process of search and candidate evaluation that few other firms can match.
HireGain's unique industry perspective, our rich network of relationships, coupled with a sincere desire to provide our clients and candidates with a superior level of service and customer satisfaction, make HireGain an executive search firm with a significant difference.